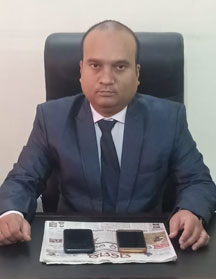 The SRB MULTITECH LIMITED Group is founded on a vision which seeks to usher in a better tomorrow by providing people with improved quality of life and living standards. We believe fulfilling the dream of a house is not merely a construction activity, but to achieve faith & support of the invaluable customers. In present real state scenario market has grown competitive and sailing your ship is not that easy. We thanks to the effort of our executives, staffs, associates, friends, buyers for their unprecedented trust, believe & continuous encouragement. The aim is for SRB MULTITECH LIMITED as Group to be a professional and responsive corporate entity, which positively transforms the quality of life of society at large and for us work is worship and therefore it is emphasized to get better & better quality in the forth coming projects.
Srikant Ranjan Badu, is the founder CMD of SRB Multitech Limited, Odisha's one of the largest real estate company with a presence in over all major cities across Odisha. He is widely recognized across the business world for his innovative idea and entrepreneurship to build modern Odisha through his pioneering role as a real estate developer and corporate leader who has transformed the urban landscape of the state by setting new standards in the housing.
He is pursued Civil Engineering and was subsequently worked for department of Culture in Odisha Govt, where he got a chance to travel most part of the state and realised the importance of someone's own house and peoples DREAM for a Residential House and Residential Land. To fulfill this basic need and to improve the livelihood, He has started SRB Multitech Ltd. and he took over as the founder CMD.
He is also widely credited with conceptualizing a unique and innovative model for acquisition of land from the farmers by involving the farming community as Partners in Progress in Housing and Urban Development. One of his most outstanding contributions to the Odisha's economy has been his pioneering role in providing Residential Land & Houses to many families and also creating employments opportunity for many families. He is continuing his efforts for every family to have a house of their desired in affordable price. He is also looking forward to collaborate with foreign direct investor (FDI) to building world-class infrastructure in Odisha to attract foreign direct investment (FDI).
His visionary efforts were crowned with success, through the innovative project at "Balianta" which is today the single-most important and influential urban development model in Bhubaneswar.
Srikant Ranjan Badu is the recipient of numerous awards and honor. The most prestigious of which is the "Indian Leadership Award For Industrial Development", conferred to him by the "Dr. Bhishma Narain Singh, former Union Minister and Governor Tamilnadu" on 25th January 2012. He is also associated with many NGOs and contributing in social activities for social upliftment.